Hey, I'm back! I'm pretty sure everyone knew but all of the eighth graders have been in Japan for the past two weeks. Anyway, this is my homestay experience.

So we first met up with the students we were going to stay with at the school library. Her name is Haruka. I was kind of nervous because my she was 18 years old, which is four years older than me. Thankfully, she spoke English really well because even though I've been at this school for basically eleven years, I still haven't learned how to speak that well.
All pictures from me
We walked to her house and left to eat lunch and go to a shopping mall soon after. We went to the banquet by car with the rest of Haruka's family. I was kinda tired from the whole day so I took a tiny nap in the car. Once we got there we sat down at a table, but a couple minute later all the HMS students were called outside to put on our hula outfits. To our dismay, we were informed we wouldn't be performing our contemporary dance and all of us were upset. After the banquet, we went back to the house and slept.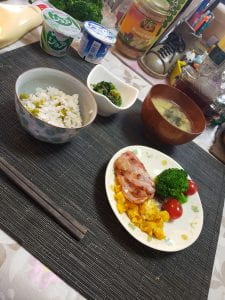 The next morning Haruka's mother made breakfast for us, which was amazing! We soon left for the train station to go to the Pokemon Center store. It was pretty crowded but I managed to find some cute things to buy. Then, we went to eat lunch, it was really great. We then went to a K-Pop store called OZ which was a shinkansen ride away. It wasn't that crowded and I found stuff for omiyage and for myself. Finally, we went to an Anime store where I bought things for my cousin. Then after all that, we went back home and rested for a couple hours. Her whole family came with us to dinner, we ate sushi at a place that kinda looked like Genki Sushi but wasn't.(?)
The next day we went to Keiai school and made okonomiyaki together with Chase and his homestay student. It turned out pretty well because our homestay people were pretty good cooks. We ate together and unfortunately had to say goodbye soon after. I was very thankful to Haruka and her family for being so welcoming to me. I hope we meet again!